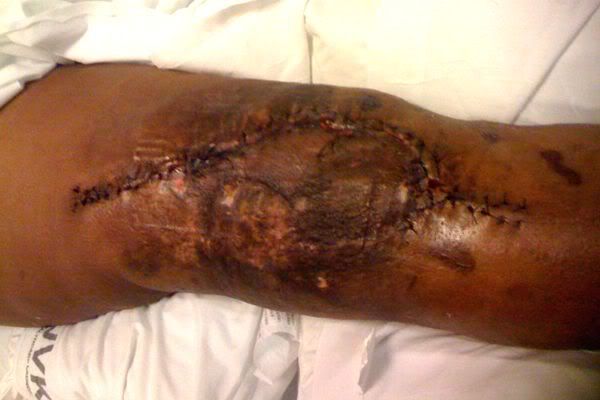 A Cautionary Tale by Jemele Hill...
The last time former Cincinnati Bengals linebacker Reggie Williams visualized his daring escape, he imagined a black Mercedes, with a beastly driver named Igor, coming to rescue him.
Igor's mission: Neutralize anyone who threatened to keep the former NFL linebacker hospitalized another day, and then whisking Williams away. Show no mercy.
Reggie Williams played through pain for 14 NFL seasons. And now he's paying the price.
When a man's been cooped up in a hospital for four months, unable to walk or use the bathroom on his own, he's bound to get a little loopy.
Fantasizing about imaginary escapes as he lay in New York's Hospital for Special Surgery was just a way for Williams to pass the time. At least for those few moments, the former NFL linebacker was thinking of something other than the indescribable pain in his mangled right knee.
"Put it like this," Williams said, "I know what it feels like to be tortured."
Like most football players, Williams believed that playing through pain was a NFL rite of passage. He starred at Dartmouth and then played 14 seasons in the NFL -- all on a bad right knee.
Williams never thought a day would come when his mind would write a check that his knee couldn't cash. Fourteen right-knee surgeries later -- including seven since April -- it's safe to say Williams' knee is bouncing checks left and right.
"I thought I knew what pain was when I retired," the 53-year-old Williams said.
A few days ago, Pro Bowl linebacker Shawne Merriman made the controversial decision to put off reconstructive knee surgery and play for the San Diego Chargers this season. Since then, Merriman has been called everything from stupid to crazy.
Three decades ago, as a sophomore in college, Williams had the same ligament tears in his knee as Merriman, and he made the exact same decision. He ignored the doctors and played on.
And on. And on. And on.
"The doctors told me the consequences," Williams said, "and I was very cavalier about dealing with whatever medical calamity came in the future."
Multiple doctors have presented Merriman with worst-case possibilities. Williams has lived them.
Today, his right knee looks like something dreamt up by Stephen King and butchered by Freddy Krueger. Four of the surgeries he's had since April were to prevent amputation. He is on his third prosthetic knee.
Here's Reggie Williams' right knee again. If this doesn't scare Shawne Merriman, what will?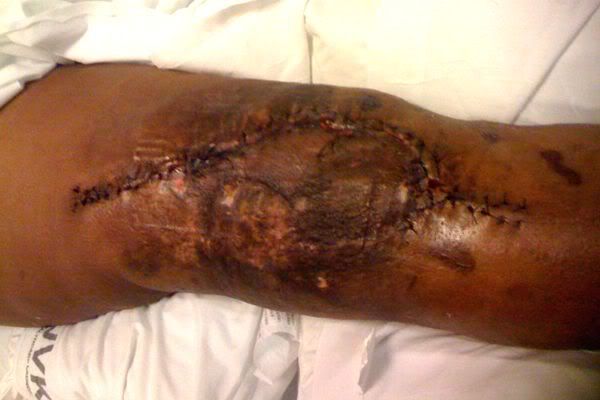 "My right leg is a quasi-pogo stick," Williams said.
He is not presumptuous enough to tell Merriman what to do, but he can tell him what to expect.
"He needs to know the scalpel is coming," Williams said.
Williams played 11 of his pro 14 seasons only having minor clean-up procedures on his right knee, before the team doctor told him the cartilage in his knee was gone and he needed microfracture surgery (which was called something different back then). The doctor said he'd be lucky if he lasted another season. And oh, by the way, he'd probably need a new knee at some point.
Williams, who earned an academic scholarship to Dartmouth despite a hearing impediment, lasted three more NFL seasons.
How those sacrifices might cost him down the line was never a consideration. At the time, the only line that mattered to Williams was the offensive line he wanted to smash every Sunday.
Sometimes, Williams doesn't sound too sure he did the right thing.
"I don't think there's any amount of money that I could have imagined as a viable trade for the pain that I've endured to keep my leg," Williams said.
But, had he not done it, would Williams' impact outside of football have been as great?
He was the NFL's Man of the Year in 1986 and Sports Illustrated's Co-Sportsman of the Year in 1987 for his courageous work in helping to end apartheid in South Africa. As a Cincinnati city councilman, he was a key figure in getting the city to divest the stock in its pension fund from all companies that did business in South Africa -- which Archbishop Desmond Tutu praised as crucial in the fight against apartheid. In 2007, Williams became the first living African-American from an Ivy League school to be inducted into the College Football Hall of Fame.
"I had an opportunity while playing to do other things that impacted in a positive way the communities I lived in," he said. "I never would have had a chance to do that otherwise."
When Williams was a player, he thrived on the pain in his knee. He ran two miles from his house to practice every day just so his knees would get used to the pounding.
"It's the art of amnesia," he said. "You forget your pain."
Jemele Hill can be reached at jemeleespn@gmail.com